BARRERA THANKS TEAM MATES AFTER STATE DEBUT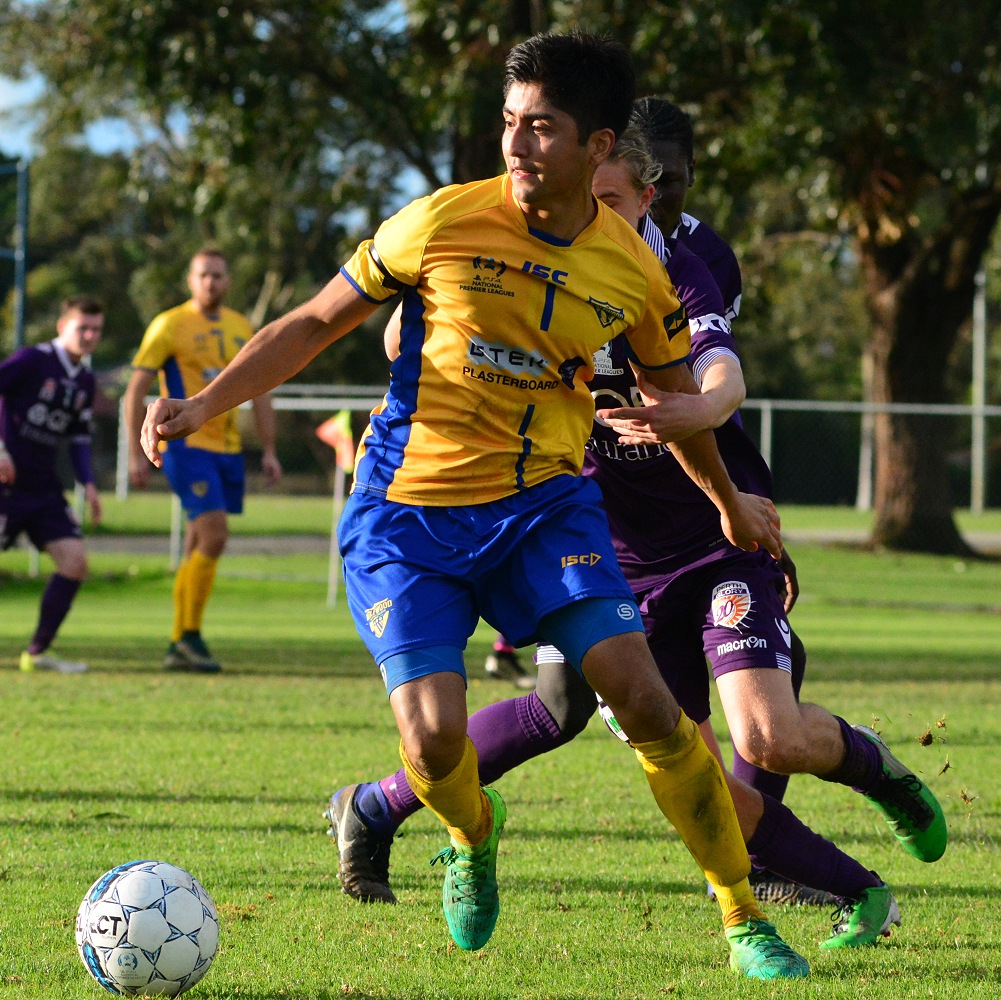 Midfielder Jason Barrera owes a debt of gratitude to his teammates and coach Andy Keogh following his debut outing for West Australia.   The 29-year old's form this season lead to his inclusion in the State team for the first time, and last night he donned the black and gold for the first time in a 3-0 friendly loss to the Australian Under-23 team.
Barrera, who is joined in the squad by teammates Alex Salmon and Matthew Ntoumenopoulos, says it's an honour to be selected to represent the State.   "With so many quality players in the league, I feel very honoured to be selected for this year's State team, especially as it's my first call-up," said Barrera, a regular fixture of the engine room since joining Inglewood United in November 2015.
"I believe that you're only as good as the players around you allow you to be, so credit to the team and Andy as he has every player knowing exactly what they should be doing, whether we are attacking or defending.   It's hard to say whether I consider this to be my best year so far, however, I do feel I've been more consistent the last couple of years."
Barrera played the opening 63 minutes against the Young Socceroos before being replaced with the score a nil-all.   He is likely to make his second State team appearance next Wednesday against Singapore's Under-20s at Dorrien Gardens, however, before that he'll return to club duty for this weekend's trip to Armadale.
"It's important we don't get complacent and focus on our individual jobs to get the result we need on Saturday," said Barrera, who played the early part of 2014 for the Reds.   "Armadale have struggled to finish in the top half of the table the last few years but they can grind out a result and pull off an upset on their day."
"This year they don't have a great deal to play for - they can't make the top four and are safe from relegation - so that could make it a very dangerous game for us.   They'll undoubtedly be giving it their everything to beat the team currently sitting on top of the table with the bonus of having no pressure if they fail to do so."
National Premier Leagues, Round 23
Armadale vs Inglewood United
Saturday 5 August @ Alfred Skeet Oval
Kick-off times
First team 3.00pm
Under-20s 1.00pm
Under-18s 11.00am