Classic Football Sends Cup To Inglewood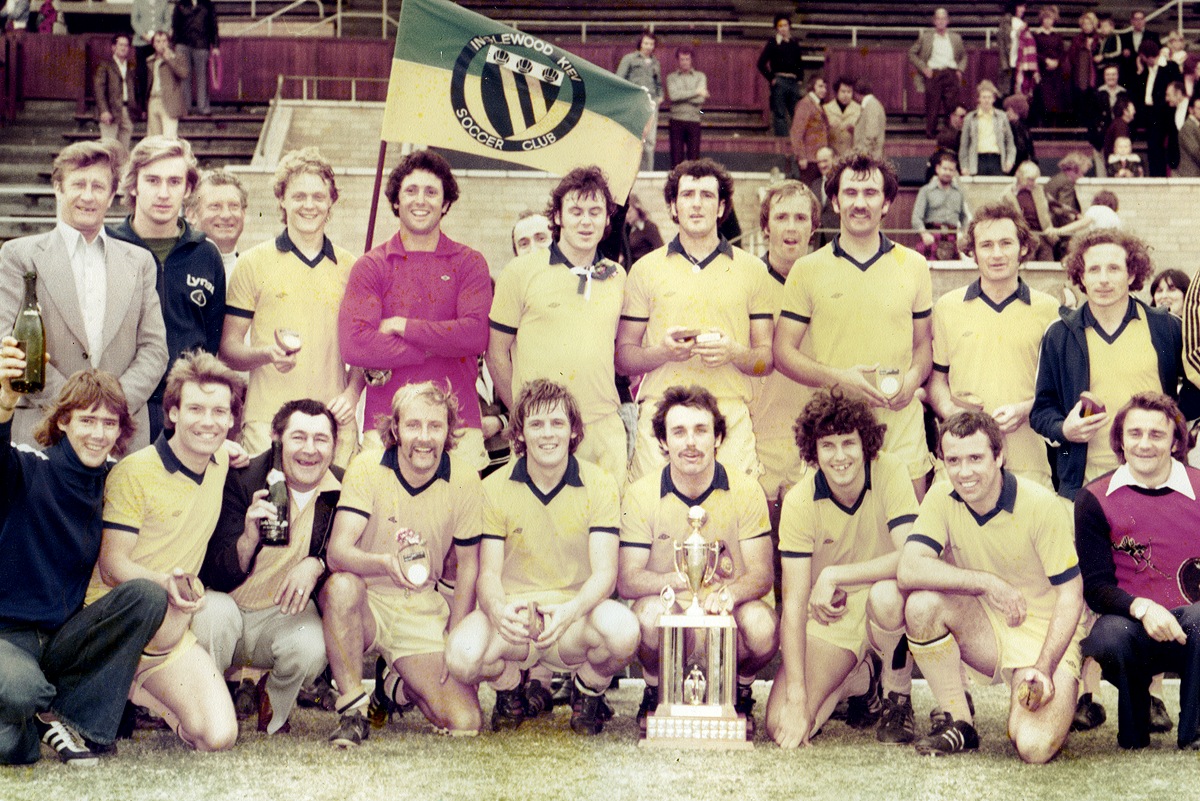 Inglewood Kiev produced one of the most devastating brands of football seen in Western Australia to crush Spearwood Dalmatinac 5-1 in the final of the 1977 D'Orsogna Cup. Robert Earl scored a hat-trick with Nick MacCallum also netting twice to provide a fitting finale to the (then) most successful year in Inglewood's history.
The win secured an impressive double having defeated Floreat Athena in the Top Four Cup Grand Final only a fortnight earlier. Inglewood were given little chance pre-game, but from the get-go they made clear an intention to turn the tables on a Spearwood side that won both regular season meetings.
Every single player that stepped out at Perry Lakes Stadium against Spearwood had victory on their mind. Full-back Jimmy Smith won the D'Orsogna Medal for his best on ground display, however, the award could easily have been won by goalkeeper Saverio Madaschi, Earl, MacCallum or midfielder Gordon Todd.
Spearwood's pre-game tactical of man-marking John Davidson back-fired badly when the Inglewood playmaker switched to the forward line, taking with him Clive Fransz. This allowed Inglewood to totally dominate the middle of the park for long periods and open up a two-goal lead by the break.
It took only 5 minutes for Inglewood to post their first goal, Earl receiving a cross from the left before rounding goalkeeper Tony Witschge to score into an empty net. Their second goal also came via the left wing with Earl neatly chipping into the top corner after 28 minutes.
With a deep analysis of the game under their belt, Spearwood returned for the second half with renewed vigour. Ernie Hannigan reducing the arrears in the 52nd minute and had it not been for Madaschi, who made a series of brilliant saves, then Spearwood would have been back on level terms.
McCallum delivered the knock-out on the hour by latching onto a corner and despatching a low left foot drive into the net. A superb far post cross by Smith in the 78th minute was headed in by MacCallum to seal the result. And in stoppage time Earl completed his hat-trick against a demoralised defence.
Inglewood made it a memorable day by also winning the Reserve Cup by beating Rockingham City 3-1. Tony Crolla, Tommy Barber and Dave Brady, all players with first team experience, were Inglewood's scorer with Rockingham's solitary reply coming via Mick McCann.
Inglewood Kiev: Saverio Madaschi, Tommy O'May, Jimmy Smith, Ian McAuley, Lee Adam, Neil Mearns, Gordon Todd, Nick MacCallum, Johnny Davidson, John Davies, Robert Earl
Subs: Tony Crolla, Tommy Barber, Peter Baczynski, Alan Lind
Spearwood Dalmatinac: Tony Witschge, Neil Hardy, Robin Witschge, Hugh Miller, Clive Fransz, John Fiamengo, Stephen Snell, Ian Russell, Frank Smerilli, Ernie Hannigan
Subs: Willie Rutherford, Keith Henley, Brian Oddy, Ernie Todd, Jim Ellis