INGLEWOOD UNITED 2 COCKBURN CITY 0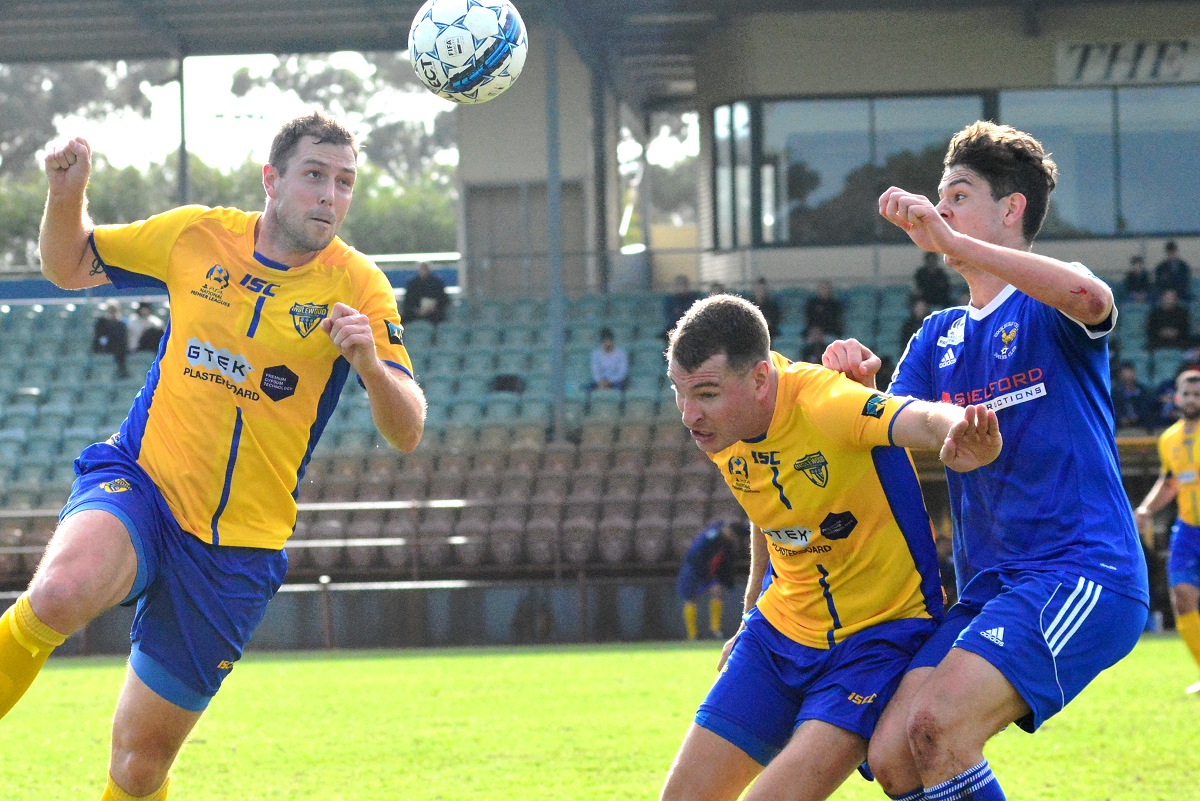 A gritty 2-0 win over Cockburn City has extended Inglewood United's stay at the top of the National Premier Leagues.   A goal on the stroke of half-time by Brian Woodall was followed after the interval by Alex Salmon's close-range finish to maintain Inglewood's one-point lead over second-placed Bayswater City with two games remaining.
A dominant Inglewood applied no end of pressure on the visiting defence across the early exchanges.   Woodall curled narrowly beyond the top corner, Chok Dau stabbed over the crossbar and Kenny Keogh flashed low across the face of goal.   Cockburn didn't return fire until the 27th minute when Calvin Whitney's strike was pushed away by goalkeeper Alex Dunn.
Luke Radonich kept his team in the game by thwarting Woodall and eight minutes later had his reflexes tested by Salmon's close-range header.   The goal Inglewood were after finally arrived on the stroke of half-time when Keogh won possession and played in Woodall, who showed great composure in converting past an exposed 'keeper.
The second half commenced with openings at both ends of the park.   Julian Teles lifted high after creating space for himself before Salmon's finish was too close to the 'keeper.   Salmon made amends just after the hour by blasting into the roof of the net from a few metres after meeting Keogh's superb cutback.
It was only now that Cockburn really began to threaten.   And although the visiting team enjoyed some good possession their better attacking moves were swiftly nullified by the no-nonsense approach of David Cyrus and Scott Blackmore, whose defensive nous ensured Dunn wasn't called upon before the final whistle sounded.
Match stats
Inglewood United 2 (Brian Woodall 44, Alex Salmon 63)
Cockburn City
Inglewood United: Alex Dunn, Brian Farrell, David Cyrus, Scott Blackmore, Alex Ishida-Livings, Matthew Ntoumenopoulos, Jason Barrera (Adam Tong 86), Brian Woodall (Victor Brauner 74), Chok Dau (Feisal Zaw 66), Kenny Keogh, Alex Salmon
Cockburn City: Luke Radonich, Jesse Lazzaro (Aiden Da Luz 69), Josh Kuser, Keiron Stallard, Daniel Santich, Rueben Tristao, Calvin Whitney (Riley Van Deiken 77), David Araya (Liam Murray 59), Gian Albano, Harry O'Brien, Julian Teles
Bookings: Cyrus (59), O'Brien (78), Keogh (92)
Dismissals: Nil