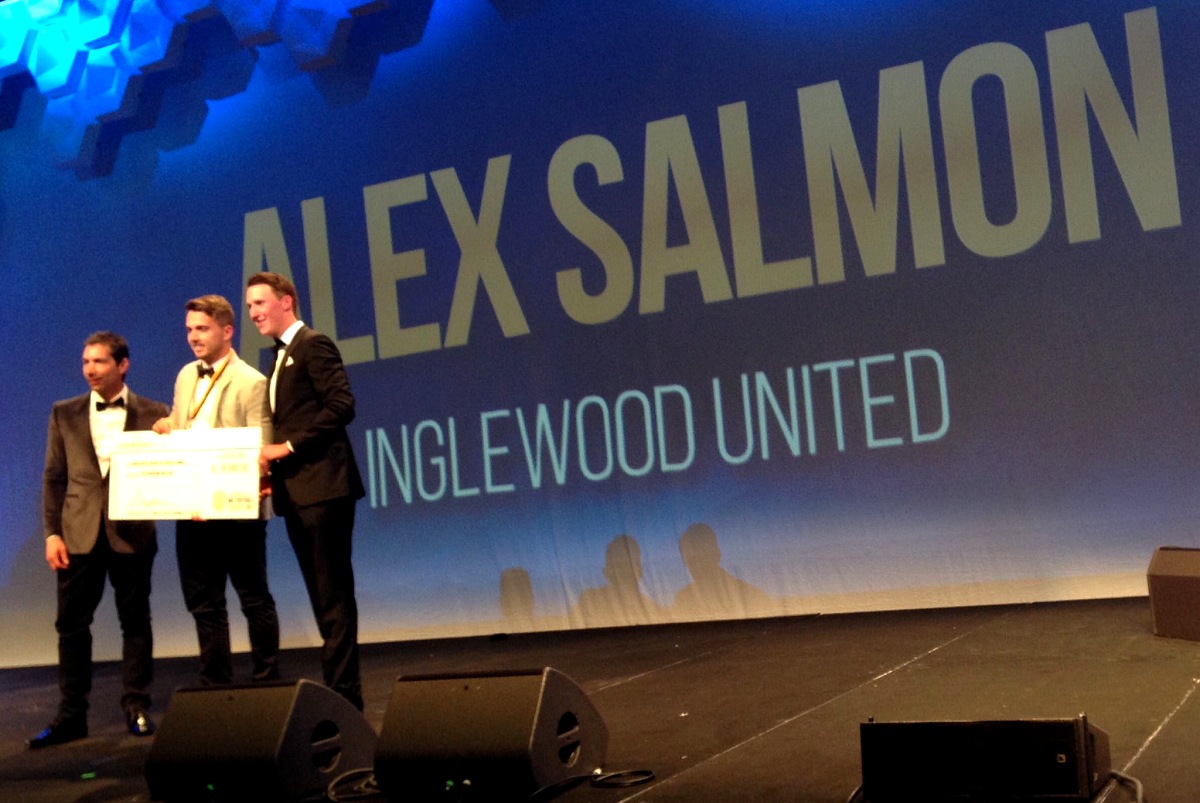 Inglewood United striker Alex Salmon is the toast of the town after claiming top honours at the West Australian Football Awards ceremony at Crown Perth last night.   Salmon was awarded the Consolidated Energy Gold Medal plus $10,000 prizemoney as the National Premier Leagues best player.
Salmon polled 30 votes to pip Subiaco AFC midfielder David Perich by a single vote to become Inglewood's seventh Gold Medal winner after Gordon Todd (1977), Lee Adam (1978 and 1980), Norrie Sutton (1982 and 1996), Jason Ainsley (1995), Louis Parkinson (2003) and Jack Clisby (2012).
"It's surreal, especially at the end how tight it was," said Salmon, whose had earlier collected the Golden Boot award for his 28-regular season finishes.   "I didn't personally think I played too well in the last couple of games so I thought I was going to get pipped."
Salmon thanked the Inglewood club for their support, but said ending the regular season in second place after leading the NPL across the season half of the winter was disappointing.   "As soon as I came to Australia I've loved every minute and Inglewood have done everything for me," he commented.
"On a personal level, I'm happy with this award but to be honest it would have meant a lot more if we secured the league title.   But we go again next year and that's all we can do.   I'm humbled by it (the Gold Medal) and I can't thank Inglewood enough … this is for them."
Inglewood's 2017 Gold Medal tally
30 Alex Salmon
13 Brian Woodall
13 Chok Dau
9 David Cyrus
9 Hamza Hina
9 Kenny Keogh
6 Adam Tong
6 Jason Barrera
6 Matthew Ntoumenopolous
3 Victor Brauner
1 Scott Blackmore
Read Football West's review of the Consolidated Energy WA Football Awards.